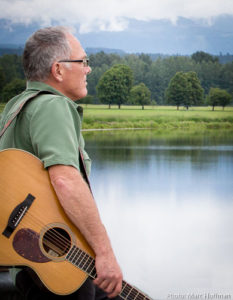 Larry Murante has a well-earned reputation as one of the Northwest's finest contemporary singer/songwriters. And he has the accolades and dozens of regional, national, and international awards to back it up, including:
Grand Prize, John Lennon Songwriting Contest

1st Place, Wildflower Songwriting Contest, Richardson, Texas

Showcase Finalist, Falcon Ridge Festival, Hillsdale, NY

Critical acclaim for his CDs Patch of Sky, Point of Entry, Water's Edge, and Kiss Me One More Time
His Roots
Larry was born and bred in the rural town of Nazareth, Pennsylvania. By the time he was in high school, he was already singing with working bands of every type—from R&B and top-40 to jazz and swing. He was also listening to and playing the music of such greats as Joni Mitchell, James Taylor, the Eagles, Jackson Browne, Dan Fogelberg, and Crosby, Stills, Nash, and Young. Now a full-time musician based in Seattle, Larry also plays harmonica and mandolin in addition to guitar.
Music: Raw Talent + Honed Skills
Larry's music combines the best of raw talent and carefully honed technical skills. His 3-octave voice reflects some of the best pipes around, as well as years of formal training.
A Masterful Songwriter
When it comes to songwriting, Larry brings a poet's sensitivity and insight to his subjects. His songs celebrate music, love, companionship, family, a roof overhead, and the resilience of the human spirit.
Performances
Larry tours nationally, performing at folk concerts, festivals, wineries, private functions, and house concerts. He has shared the stage with such artists as Brandi Carlile, Christine Lavin, Uncle Bonsai, Peter Mulvey, Greg Greenway, Pierce Pettis, David Broza, Cosy Sheridan, Laura Love, Alice Stewart, TR Ritchie, and Orville Johnson.
Larry also performs as a member of the band Ventura Highway Revisited, a seventies soft-rock tribute band featuring the music of America, CSN, the Eagles, and others.